UW-Madison Research: Special Grants
Sometimes, research opportunities arise that need immediate attention, and funding. From time to time, Lily's Fund will allocate available resources to respond and fund this pressing research.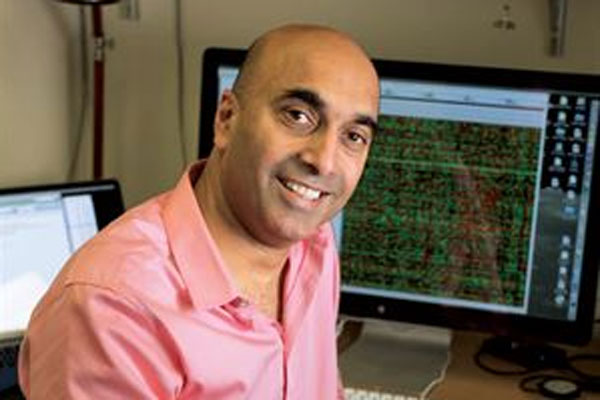 2015-16 Special Spark Grant: Looking for the "Master Regulator"
With the support of a $100,000 two-year grant from Lily's Fund, Avtar Roopra, PhD and his team are exploring a novel genetic pathway that may be involved in the development of epilepsy.
Although scientists are beginning to understand how changes in the brain contribute to the progression of epilepsy, they know little about what drives and coordinates these changes. Avtar wants to know if there is a "master regulator" that coordinates the process of epileptogenesis.
Using a computer algorithm to sift through data from 11 independent labs, Avtar has determined that a specific complex of proteins may orchestrate many of the changes in the epileptic brain. Drugs have already been developed to target this complex. Avtar's goal is to see if these same drugs might stall the progression of epilepsy.

Madison, Wis. – Leveraging data from around the world, Avtar Roopra thinks he may have found a common genetic link among the many variations of epilepsy. That link, he hopes, can take the shape of a target to stop the progression of epilepsy.
The "shot in the arm" that will move the research to the next level is a two-year, $100,000 grant Roopra received on Saturday, January 24 at Lily's Luau, a local event put on by Lily's Fund for Epilepsy Research. For him, the grant from Lily's Fund means that he can pay salaries and purchase reagents and compounds needed for this project.
A research consortium of nearly a dozen labs across the globe embarked on a concerted effort to understand the mysteries of epilepsy, using various models of rat epilepsy to study. Each model had strengths and weaknesses, and seizures were induced in a variety of ways depending on the model.
But Roopra, a professor of neuroscience at the University of Wisconsin School of Medicine and Public Health, is interested in what the models all have in common.
"The data we get with this grant will set the groundwork for a much bigger grant which will allow us to really tear this problem apart."
– Avtar Roopra
"Understanding what's common in all models may tell us something very basic about epilepsy, regardless of how the epilepsy starts," said Roopra. "With that as a backdrop, we got ahold of all the data these labs generated through all their different models. We measured the level of gene expression — the amount of a gene's activity in the brains of these animals — in these large electronic data sets."
The Roopra lab used the genetic data from each disease-model rat as well as control animals, analyzing the 28,000 active genes in the brain of each rat. What they discovered was that several protein complexes, "master regulators" that turn genes on and off, were controlling nearly all of the genes that change after a seizure is induced.
According to Roopra, the first seizure a person has does not mean epilepsy. That seizure is simply an insult that may cause gene changes, perhaps making the brain more prone to seizures in the future. Therefore, targeting the changes in the brain could have better outcomes compared to treating the symptom of seizures.
With this early data in hand, the Roopra lab now plans to test its hypothesis that these two or three master regulator proteins drive all the changes seen in epilepsy. The plan is to try to stop these regulators, and perhaps stop the gene changes in the brain that happen after a seizure to stop the brain from becoming epileptic.
"In reality, to really get to the bottom of this, we're probably looking at three to five years of solid work by several people who will do nothing else but study these master regulators, and we're talking about hundreds of thousands of dollars, perhaps even a million dollars in funding," said Roopra. "To convince the National Institutes of Health to give us that kind of resource, they need to be convinced that we're on to a real good lead, and so for that, we need more preliminary data to make that case."
Roopra said the Lily's Fund grant is will function as a much-needed primer.
"The data we get with this grant will set the groundwork for a much bigger grant which will allow us to really tear this problem apart. That's why Lily's Fund and others are so important now more than ever, when funding at the federal level is so tight. They allow us to prime the pumps of data generation so that we can get enough data to make the case to federal agencies."
While continuing to underwrite postdoctoral and graduate research fellowships and other epilepsy research projects at the UW School of Medicine and Public Health, Lily's Fund volunteers designed a new grant program to respond quickly to emerging research opportunities.
"This special grant represents the convergence of two inspiring trends," said Anne Morgan Giroux, founding member of Lily's Fund for Epilepsy Research. "First, we have generous donors who have really stepped up to the plate to support epilepsy research. That puts us in a position to support entrepreneurial scientists at UW-Madison who want to explore new frontiers. It's grassroots philanthropy fueling innovative research."
Lily's Fund is an all-volunteer organization that celebrates and supports epilepsy-related research at UW-Madison. The organization has raised over $800,000 since its inception in 2006. The seventh annual Lily's Luau, held at UW-Madison's Union South, netted a record $145,000.