Badgers and Gophers Promote Epilepsy Awareness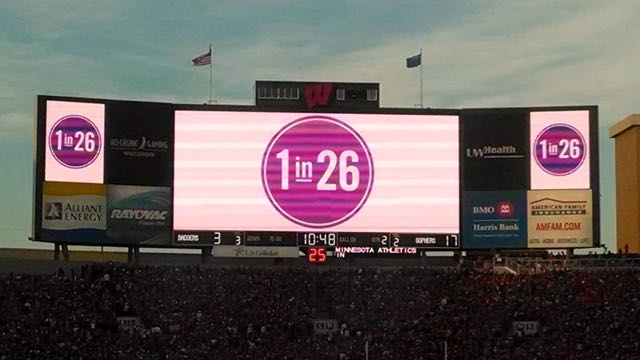 More than 80,000 fans packed Camp Randall stadium on Nov. 29, 2014 to watch Wisconsin and Minnesota compete for both Paul Bunyan's Axe and a spot in the conference championship. The Badgers came from behind to earn a win over the Golden Gophers, 34-24.
The game also ended in a win for people who live with epilepsy, as UW Athletics partnered with their Minnesota counterparts and Lily's Fund on a groundbreaking awareness effort. The initiative focused on a simple message — that 1 out of every 26 people will be affected by epilepsy during their lifetime. One of those people is Minnesota Coach Jerry Kill.
To show support of Coach Kill and the 1 in 26 people who will develop epilepsy in their lifetime, Badger and Gopher players marked epilepsy awareness month by wearing purple  "1 in 26" stickers on their helmets. Coaching staff sported purple gear, and fans were encouraged to wear both their team colors AND something purple.
Media coverage credited the Badgers for a classy show of support, and fans were urged to wear purple to the game. A video played on the massive Camp Randall scoreboard featuring Bucky Badger in the lab, helping neuroscience researchers.
Scoreboards and monitors throughout the stadium carried educational messages. Thousands of fans showed up in their own purple (and red, of course),  and the student section was awash in a purple Jump Around celebration.
Video featuring Bucky Badger